The Man O'War Society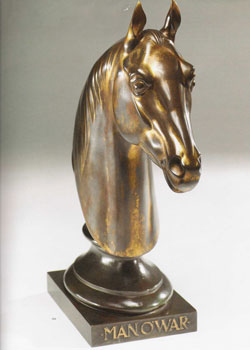 Riddle Memorial Hospital opened on February 18, 1963, the direct result of a bequest from Samuel D. Riddle, a native of Delaware County, local businessman and breeder of famous racehorses – Man O'War and War Admiral, to name two.
Mr. Riddle's will stipulated that his estate of $2.2 million and 72 acres of land be used to"...establish, construct, equip, maintain and operate a hospital...for the relief of suffering humanity and for the care of the sick, injured and afflicted...to be established in the Borough of Media or the vicinity thereof." We only wish we could have thanked Mr. Riddle in person for his foresight and generosity.
The Man O'War Society, named for Mr. Riddle's famous racehorse, has been created to provide that thanks and recognition to individuals who have made some provision to ensure that Riddle Memorial Hosptial and The Riddle HealthCare Foundation will continue for generations. To be a member of The Society, an individual will have planned a bequest, created a gift annuity, established a charitable remainder trust or in some way planned a gift that will carry on after they are gone. The individuals who have had the foresight and generosity to plan a gift to the Foundation should enjoy the benefits recognition during their lifetime. The Society will also provide our donors the opportunity to direct their gifts to those programs that are of the greatest interest to them.
Man O'War Society members will be invited to special programs throughout the year, and their names will be included on a Visionary Society plaque located in the main lobby of the Hospital. Members of the Society may also choose to remain anonymous.
Members of the Man O'War Society have expressed their commitment to The Riddle HealthCare Foundation through a very special and important form of financial support.
These donors have named RHCF as the ultimate beneficiary of a planned gift. Such gifts might include a bequest and/or charitable income gifts, such as charitable gift annuities, charitable remainder unitrusts, charitable remainder annuity trusts, or gifts of life insurance.
Once you complete your estate plans, please fill out our member profile form to let us know. We would like to thank you for your generosity by including you in the Man O'War Society.
Your membership involves no dues, obligations, or solicitations, but it does allow us to thank you and recognize you for the plans you have made, and it may inspire generosity in others.
Benefits of membership in the Man O'War Society also include annual luncheons, invitations to special events and seminars and a subscription to our newsletter.
The most important benefit, however, you will receive from joining the Man O'War Society is the satisfaction derived from making a lasting contribution to our long-term prosperity.
Riddle Hospital deeply appreciates the commitment to our future made by the following living individuals who have included the Riddle HealthCare Foundation in their long-term financial or estate plans. In recognition of their thoughtfulness, we proudly affirm that they are enrolled in The Man O'War Society, established to honor individuals who have named Riddle Hospital as the beneficiary of their will (bequest), IRA, qualified retirement plan, living trust, charitable income gift, life insurance policy or other estate-related instrument.
As of June 30, 2022
Ms. Mary Anne Bogie
Mr. and Mrs. R. Arthur Duryea
Mr. and Mrs. Thomas D. Graham
Mrs. Martha Grieco
Ms. Maria Icaro
Mrs. Nicole M. Jones
Mr. Daniel E. Kennedy
Mr. Ted Kerwin
Mrs. Diane M. Lafferty
Mr. and Mrs. Hugh A. MacDonald
Dr. Barbara J. Madden and Mr. Augustine Ciardullo
Mrs. Alycia Mallon-Buhle and Dr. E. Loren Buhle, Jr.
Gary and Cindy Perecko
Mr. and Mrs. Joseph N. Pew
Mrs. Selma S. Rende
Ms. Susan Sutsko
Dr. Hassan C. Vakil
Mr. John G. Vernon
Mr. and Mrs. James J. Walsh